Narendra Modi of India
Brazilian president Jair Bolsonaro and Indian Prime Minister Narendra Modi are both accused of mishandling their countries' COVID-19 outbreaks. Pavel Golovin/Pool/AFP via Getty Images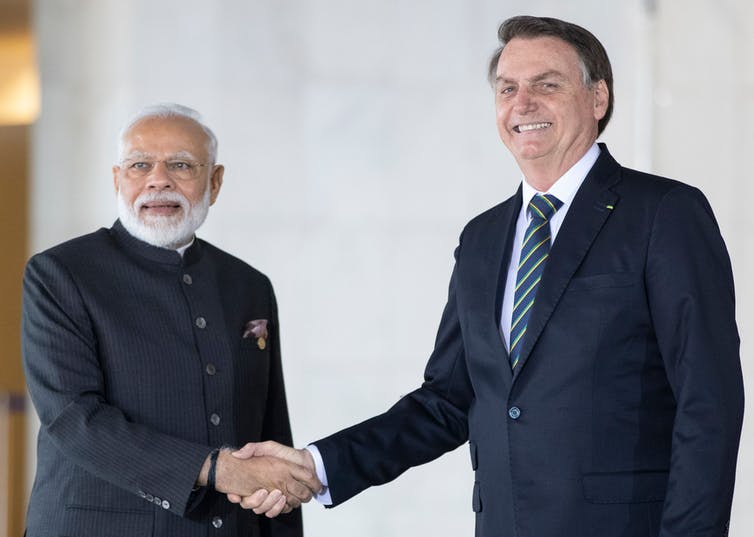 Previous
Next
Sumit Ganguly, Indiana University
India is the new epicenter of the global pandemic, recording some 400,000 new cases per day by May 2021. However grim, this statistic fails to capture the sheer horror unfolding there. COVID-19 patients are dying in hospitals because doctors have no oxygen to give and no lifesaving drugs like remdesivir. The sick are turned away from clinics that have no free beds.
Many Indians blame one man for the country's tragedy: Prime Minister Narendra Modi.
In January 2021, Modi declared at a global forum that India had "saved humanity … by containing corona effectively." In March, his health minister proclaimed that the pandemic was reaching an "endgame." COVID-19 was actually gaining strength in India and worldwide – but his government made no preparations for possible contingencies, such as the emergence of a deadlier and more contagious COVID-19 variant.
Even as significant pockets of the country had not fully suppressed the virus, Modi and other members of his party held jampacked outdoor campaign rallies before April elections. Few attendees wore masks. Modi also allowed a religious festival that draws millions to proceed from January to March. Public health officials now believe the festival may have been a superspreader event and was "an enormous mistake."
As Modi touted his successes last year, India – the world's largest vaccine manufacturer – sent over 10 million vaccine doses to neighbouring countries. Yet just 1.9% of India's 1.3 billion people had been fully inoculated against COVID-19 by early May.