Viruses jump from wild animal hosts to humans
A challenge in viral origin tracing is the wide range of human and animal samples that need to be collected and tested. LLuis Alvarez/DigitalVision via Getty Images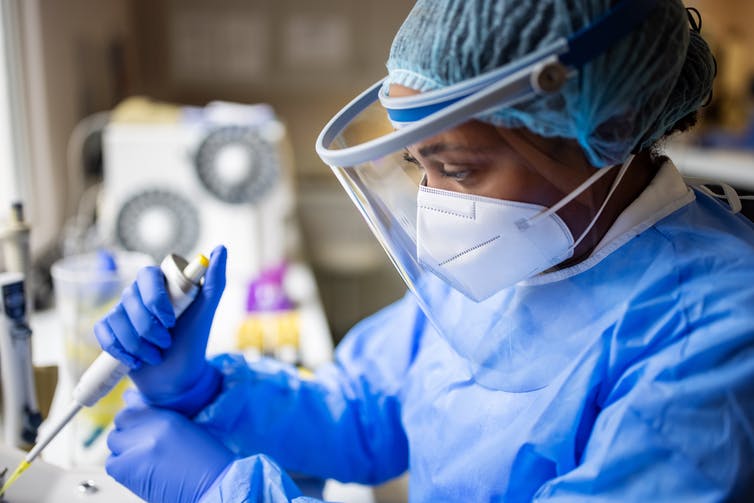 Previous
Next
Many viruses and other disease agents that infect people originate in animals. These diseases are zoonotic, meaning they are caused by animal viruses that jumped to people and adapted to spread through the human population.
It might be tempting to start the viral origin search by testing sick animals at the site of the first known human infection, but wild hosts often don't show any symptoms. Viruses and their hosts adapt to each other over time, so viruses often don't cause obvious disease symptoms until they've jumped to a new host species. Researchers can't just look for sick animals.
Another problem is that people and their food animals aren't stationary. The place where researchers find the first infected person is not necessarily close to the place where the virus first emerged.
In the case of COVID-19, bats were an obvious first place to look. They're known hosts for many coronaviruses and are the probable source of other zoonotic diseases like SARS and MERS.
For SARS-CoV-2, the virus that causes COVID-19, the nearest relative scientists have found so far is BatCoV RaTG13. This virus is part of a collection of bat coronaviruses discovered in 2011 and 2012 by virologists from the Wuhan Virology Institute. The virologists were looking for SARS-related coronaviruses in bats after the SARS-CoV-1 pandemic in 2003. They collected fecal samples and throat swabs from bats at a site in Yunnan Province about 932 miles (1,500 kilometers) from the institute's lab in Wuhan, where they brought samples back for further study.
To test whether the bat coronaviruses could spread into people, researchers infected monkey kidney cells and human tumor-derived cells with the Yunnan samples. They found that a number of the viruses from this collection could replicate in the human cells, meaning they could potentially be transmitted directly from bats to humans without an intermediate host. Bats and people don't come into direct contact very often, however, so an intermediate host is still quite likely.