Transformers
Much of the technology used to identify and manage misinformation is powered by artificial intelligence. AI allows computer scientists to fact-check large amounts of misinformation quickly, given that there's too much for people to detect without the help of technology. Although AI helps people detect misinformation, it has ironically also been used to produce misinformation in recent years.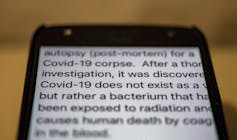 AI can help detect misinformation like these false claims about COVID-19 in India – but what happens when AI is used to generate the misinformation? AP Photo/Ashwini Bhatia
Transformers, like BERT from Google and GPT from OpenAI, use natural language processing to understand text and produce translations, summaries and interpretations. They have been used in such tasks as storytelling and answering questions, pushing the boundaries of machines displaying humanlike capabilities in generating text.
Transformers have aided Google and other technology companies by improving their search engines and have helped the general public in combating such common problems as battling writer's block.
Transformers can also be used for malevolent purposes. Social networks like Facebook and Twitter have already faced the challenges of AI-generated fake news across platforms.