A documentary approach
The gravestone of Jane Elliott who looked after homeless children in Calcutta. Author provided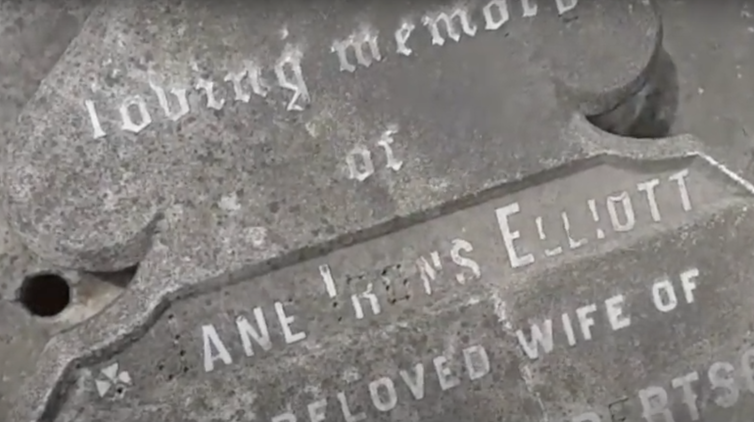 Previous
Next
In 2019, I collaborated with academics from Bridgewater State University in the US in making my documentary to unpack these issues. The documentary argues that the physical death and decay of the human body does not necessarily erase the social and historical narratives that have shaped a person's existence.
Through their discovery and circulation, the cemetery stories of the Scottish women endure beyond graveyards that decline with time, and now exist in the present and the future. The women's stories make an effort to "honour and resurrect the future inside the past" because they have laid bare another dimension to European colonisation that previous interpretations had overlooked.
The documentary engages with the narratives of 11 Scottish women, selected from the available list of names in the cemetery records. Initially, 24 women were identified for documentation, but less than half could be used as the carvings on so many of the gravestones were too faded or degraded to use. The film shows that these stories have not come from existing written or oral accounts. Instead, these tales of real and often difficult lives have been resurrected from the information chiselled onto gravestones.
Here we find stories of Scotswomen like Jane Elliott, who worked as a missionary and looked after homeless children in Calcutta; or Christina Rodger Wighton who worked with people suffering from cholera, malaria and dysentery and died herself of cholera aged just 27; or Caroline Leach who arrived in India in 1850 just as epidemics broke out and worked as an apothecary in a leper colony; or Anne Baynes Evans who worked with the poor through the Baptist Missionary Society and was committed to educating young Indian women. Apart from their gravestones and cemetery records, no account of these women's lives and achievements exist.
Many other colonial women's lives in India follow the same pattern. Here were Scotswomen who saw their role as benevolent colonisers, contributing towards the "growth" and "development" of Calcutta by establishing schools for girls, health centres, nature parks and places of worship. But the ultimate goal of their high-minded and no doubt well-meaning contributions was to justify why colonisation was necessary.