Moral decay of medical institutions
Ketan Desai, President of the Medical Council of India, found guilty of corruption in 2010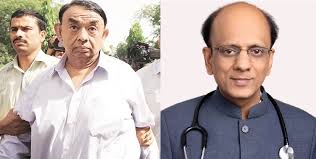 Previous
Next
A government hospital should be a reliable source of evidence. An establishment of medical expertise that can be trusted. In this case, it was clear to the judiciary that the government hospital was lying to protect the interests of those in power, and they took the decision to send Mr Raju to a private hospital in the neighbouring state to get a second opinion.
This example is a clear illustration of the moral decay of our medical institutions. A private hospital is free to speak the truth, while a government hospital is not. It is a tool of the ruling party.
So why can't the medical profession stand up to pressure from politicians?
Years of neglect have left the health system in ruins: India spends far less than most countries on health care, at around 1% of its GDP. Equally destructive, the absence of proper checks in the regulatory system has opened to door to corruption on a grand scale, from the highest level of government to the everyday bribes that patients are forced to pay medical staff during routine hospital visits.
The decay goes back a long way. In 2010, the High Court dismissed Ketan Desai, the President of the Medical Council of India (MCI), from his post when he was found guilty of corrupt practices and abuse of power. The MCI was, until recently, the government authority responsible for the overall regulation of medical education and practice. It operated more like a business than a regulatory body, however, and it became common practice for medical colleges to illegally extort extra fees from students. This set the cycle of corruption in motion, as graduate doctors sought to recover the huge investment they have had to make in their education by over-charging patients or ordering unnecessary tests.
In 2014, the BJP's new Health Minister, Dr. Harsh Vardhan, publicly stated that the MCI was corrupt, and in September 2020 the institution was scrapped altogether and replaced by the National Medical Commission. But it has been too little, too late.