Biological effects of a mix-and-match approach
Scientists suspect there are a few ways that receiving two different COVID-19 vaccines may result in a stronger immune response.
Each company used slightly different regions of the SARS-CoV-2 spike protein in their formulations. It's the virus's spike protein that your immune system responds to, so exposure to different portions of the spike protein should mean your body will make an array of corresponding antibodies that can fend off future infection. The range of antibodies should then provide better protection and increase the likelihood that you'll be protected from variants with changes in the spike protein.
And different vaccine technologies activate unique aspects of the immune system thanks to how they present their portion of the spike protein.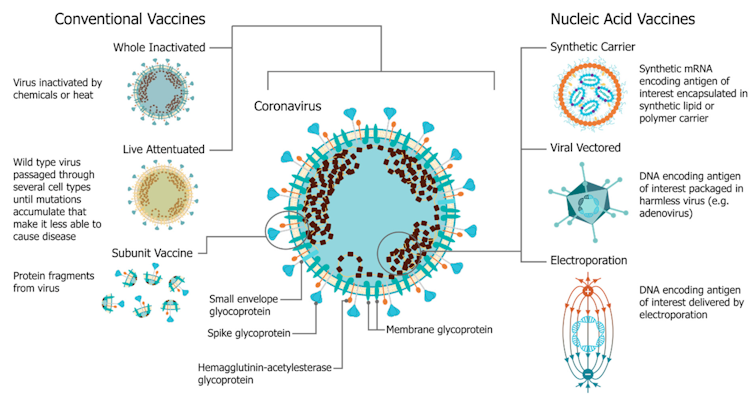 Researchers can build vaccines based on a number of what they call platforms – different technological ways to safely introduce your immune system to the targeted virus. Blakney AK, Ip S, Geall AJ. An Update on Self-Amplifying mRNA Vaccine Development. Vaccines. 2021; 9(2):97., CC BY
The Pfizer and Moderna vaccines are composed of a small snippet of mRNA, genetic material that contains the recipe to make a region of the SARS-CoV-2 spike protein. Wrapped up in a fat coat, the mRNA slips into a vaccinated person's cells where it directs production of the viral protein. The person's immune system then recognizes the foreign spike protein and produces antibodies against it.
Several other COVID-19 vaccines rely on a viral vector. In these cases, researchers modified an adenovirus that usually causes the common cold to deliver the DNA instructions for producing a portion of the SARS-CoV-2 spike protein. The modified virus is safe because it can't replicate in people. Along with J&J and AstraZeneca's, examples of COVID-19 viral vector vaccines in use globally include Russia's Sputnik Vand the CanSino Biologics vaccine.
Your immune system can develop an immune response to the viral vector vaccine itself, which could reduce the vaccine's effectiveness against the coronavirus. Experts hope that combining vaccine platforms, for example using an mRNA-based vaccine or one that includes a different viral vector for the second dose, could reduce that risk.