From slavery to skin care
Palm oil has long been a staple food in a region stretching from Senegal to Angola along Africa's western coast. It entered the global economy in the 1500s aboard ships engaged in the transatlantic slave trade.
During the deadly "middle passage" across the Atlantic, palm oil was a valued food that kept captives alive. As the author of a 1711 book noted, traders also smeared captives' skin with palm oil to make them "look smooth, sleek, and young" before sending them to the auction block.
By the mid-1600s, Europeans were rubbing palm oil on their own skin, too. European writers, learning from African medicinal practices, claimed that palm oil "does the greatest cures upon such, as have bruises or strains on their bodies." By the 1790s, British entrepreneurs were adding palm oil to soap for its reddish-orange color and violetlike scent.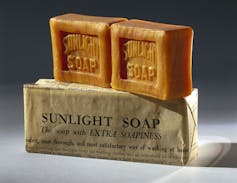 Lever's Sunlight Soap, introduced in the 1880s, got its tint from palm oil. SSPL vis Getty Images
After Britain abolished the slave trade in 1807, traders sought out legal products. In the following decades Britain slashed tariffs on palm oil and encouraged African states to focus on producing it. By 1840, palm oil was cheap enough to completely replace tallow or whale oil in such products as soap and candles.
As palm oil became increasingly common, it lost its reputation as a luxurious good. Exporters made it even cheaper with labor-saving methods that allowed palm fruit to ferment and soften, though the results were rancid. European buyers, in turn, applied new chemical processes to strip away foul odors and colors. The result was a bland substance that could be freely substituted for more expensive fats and oils.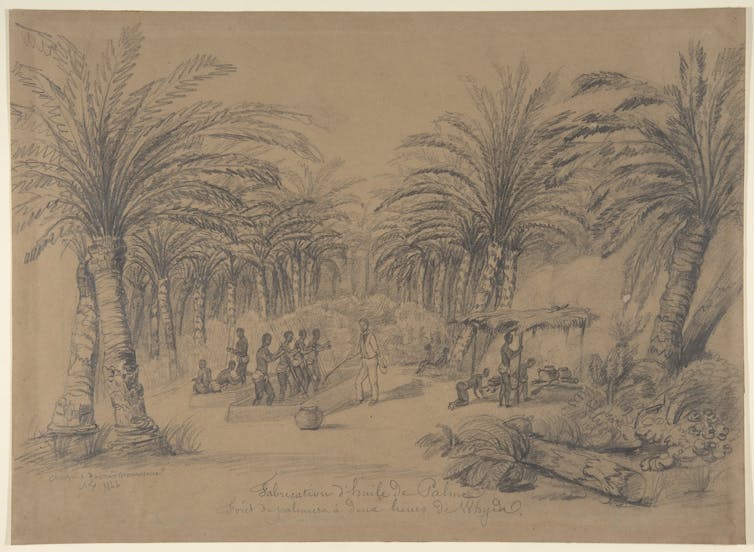 'The Production of Palm Oil,' by Édouard Auguste Nousveaux, 1844. Metropolitan Museum of Art