Unique among mammals
With so many potentially dangerous viruses circulating among them, why do the bats themselves not die off from these constant infections? Clearly, bats can maintain a balance between control of a viral infection and the excessive inflammatory response that can kill other hosts. Perhaps the answer lies in their unique feature among mammals – flight.
The physiological requirements of flight have affected the bat immune system. Flight causes bats to have elevated metabolic functions and raises their core body temperature about 38°C. This means that bats are often in a state that, for humans, would be considered a fever. Researchers in the UK have suggested that this may be a mechanism to help bats survive viral infections.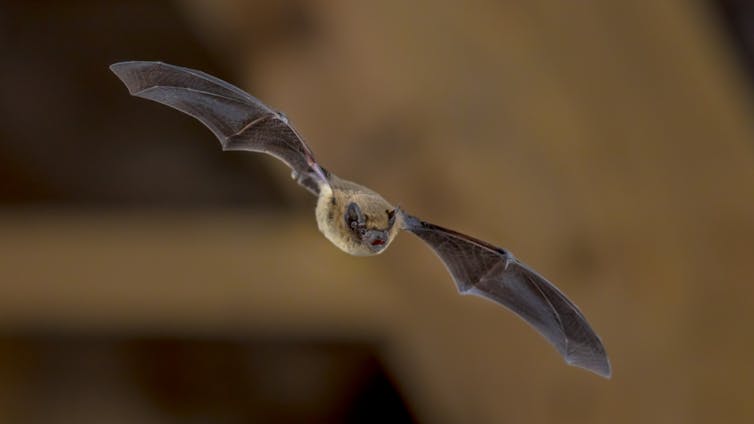 Bats are the only mammal that can fly. Rudmer Zwerver/Shutterstock
Viral infections can harm the host, in part, by causing an out-of-control inflammation response called a "cytokine storm", which can be a fatal complication in several respiratory diseases, including COVID-19. If bats adaptation to flight also allows them to tolerate high body temperatures better, it means they can tolerate at least some potential damaging effects of the inflammation response better than other mammals.
In addition to traits that allow bats to tolerate a high body temperature, bats may also have other adaptations that mark their immune system as unusual or unique among mammals.