Names on the list
Four of the people under surveillance: Muzamil Jaleel, Rohini Singh, Siddharth Varadarajan and Prashant Jha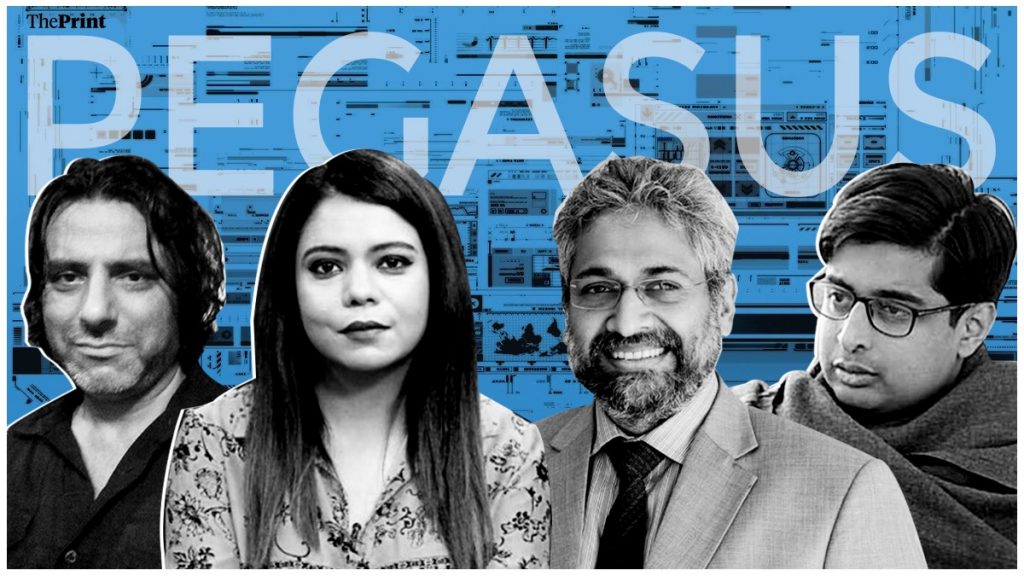 Previous
Next
The list of Indians who were targeted by Pegasus does not suggest that it is being used for "law enforcement" purposes.
There are hundreds of phone numbers. According to the Guardian, this list covers a wide range of voices who have been critical of the current government, including politicians, prominent members of civil society, labour unionists, Tibetan Buddhist clerics, and social justice campaigners.
Most prominent is Rahul Gandhi, leader of the opposition party, as well as several other leading Congress members. There is Prashant Kishor, political advisor to the All India Trinamool Congress for the 2021 West Bengal Legislative Assembly election, who played a key role in their victory against the BJP.
There is Ashok Lavasa, the only member of the Election Commission who spoke out against PM Narendra Modi, saying that some of his speeches during the 2019 election campaign broke the code of conduct. There are a number of researchers and activists working with NGOS, such as M Hari Menon, the director of the Bill and Melinda Gates Foundation's Indian operations. There is Jagdeep Chhokar, a member of the Association for Democratic Reforms, a group that has investigated the erosion of India's democratic norms.
The majority of those on the list are journalists who have been critical of the government. Several are reporters for The Wire – such as Rohini Singh, who produced an investigation into the finances of Amit Shah's son – or the Indian Express, including Ritika Chopra, who covers education and the Election Commission, and Muzammil Jaleel, the Kashmir correspondent.