Brain drain is taxation
There are many reasons doctors leave. A higher salary, access to education, stable political conditions, improved standards of living, increased perceived quality of life, and greater personal safety all draw doctors away from their homes and often to countries that previously colonised theirs.
It's a multi-billion–dollar industry. Recently, my colleagues and I published an estimate of the economic effect of the migration of doctors (we didn't have enough information to look at the migration of nurses or other health professionals). We found that countries lose somewhere between US$3.5 billion and US$38 billion a year as a result of the excess deaths that brain drain causes. The countries exporting the greatest number of doctors incur the largest costs: India, Nigeria, Pakistan and South Africa.
In other words, not only do the countries to which doctors migrate benefit from an influx of trained, experienced professionals, they also inflict what is essentially a tax on the economies of source countries — all for the privilege of attracting away their clinical staff.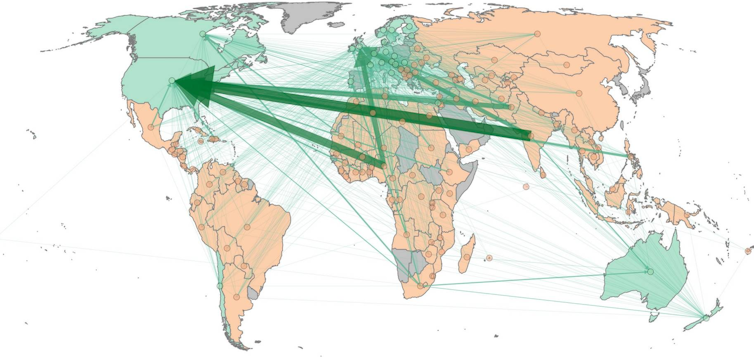 Migration of doctors from source (orange) countries to destination (green) countries. Saluja, Rudolfson, Massenburg, Meara, Shrime/BMJ Global Health, CC BY-NC