The problem with fighting every wildfire
Historically, fire was a regular visitor to most Western forests, except moist locations like those along the Pacific Northwest coast and in British Columbia. Frequent or periodic fires from Indigenous burning and lightning strikes created patchworks of grasslands, shrublands and regenerating forests of all ages.
Past fires influence the way subsequent fires burn and what they leave behind. For example, Indigenous burning practices not only enhance cultural resources and wildlife habitat but also reduce the amount and connectedness of fuels that drive large, severe wildfires. Similarly, patchy burns from lightning ignitions create forest landscapes that are less likely to burn all at once.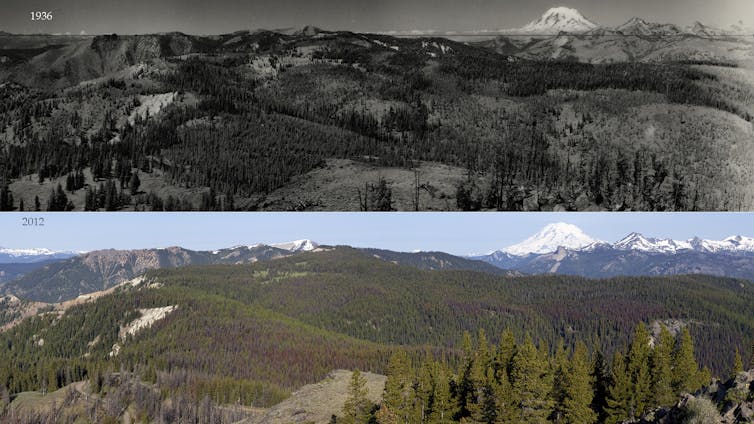 Photos of Bethel Ridge, a moist mixed conifer forest in eastern Washington, show the difference in patchiness in 1936 compared with 2012. National Archives (1936); John Marshall Photography (2012)
The U.S. and Canada effectively suppress all but 2%-3% of wildfire starts. However, this small percentage of fires burn at the height of each fire season, when dry conditions and extreme fire weather thwart even the most aggressive attempts to suppress them.
Unintentionally, by focusing on short-term risks of wildfires, the U.S. is predisposing forests to burn under the very worst conditions. Active fire suppression contributes to what is often referred to as the wildland fire paradox – the more we prevent fires in the short term, the worse wildfires become when they return.
In one of the new studies, Paul Hessburg and co-authors explain how fire managers can mitigate the severity of future fires by managing fire-excluded forests to foster resilience to wildfires and drought. Management approaches include thinning dense forests, reducing fuels through prescribed burning and managing wildfires to restore more typical patterns of forests, meadows, shrublands and woodlands.
In a second paper, Keala Hagmann and her co-authors describe how more than a century of fire exclusion and past forest management practices have jeopardized forest biodiversity and social and ecological values, including culturally important resources, the quantity and quality of water, stability of carbon stores, recreation and air quality.
For example, fire exclusion has compromised aspen stands – biodiversity hot spots for everything from bears to butterflies. Increased forest cover diverts water from downslope meadows, allowing conifer forests to further encroach on aspen habitat.