Successes and failures
Once the British were overthrown and he rose to power, Nehru quickly set about ensuring his vast, impoverished and hugely diverse country was governed by democratically elected leaders and the rule of law.
In parallel, he tried to make India economically self-reliant, so that it could no longer be exploited or manipulated by foreign powers.
Perhaps inevitably, given the scale of the challenges involved, the results of these efforts were mixed.
Nehru's hopes for a peaceful transition from British rule were dashed by the horrific violence that accompanied partition — the division of the British colony into the separate states of India and Pakistan. Hundreds of thousands died in clashes between Hindus and Muslims, and millions more were displaced and traumatised.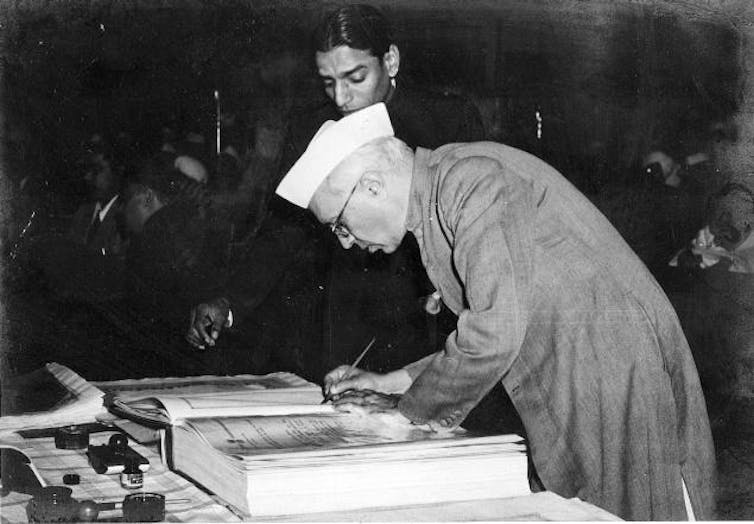 Jawaharlal Nehru signing the first Indian constitution in 1950. Wikimedia Commons
Nehru did succeed in the herculean effort of transforming India into a constitutional democracy, but his ambitious plans to modernise the economy proved harder to realise.
To be sure, India avoided mass famines like those that ravaged Bengal in mid-1940s and China during the so-called "Great Leap Forward" in the late 1950s and early 1960s. But most Indians did not see major improvements in their standard of living.