'A sea of righteous retribution'
Osama bin Laden gave American interventionists eager for the next fight a huge justification – an attack on the U.S., which washed the Vietnam Syndrome away in a sea of righteous retribution against al-Qaida.
The al-Qaida attack on the World Trade Center and the Pentagon also gave interventionists the opening to invade Iraq, as an extension of the war on terror. We built on the terrorism lie – Saddam Hussein was no friend of the 9/11 terrorists – by arguing that he had weapons of mass destruction. American hubris ran the full course as we invaded another country, overthrew its government and aimed to build a new nation, all of which have kept American troops in a dysfunctional Iraq for 18 years.
And the truth, which insisted on penetrating the American delusion, was that the war meant the deaths of 8,500 American troops and civilians and at least 300,000 Iraqis as well. No modern, rebuilt Iraqi nation has emerged.
And now the country faces the dark at the end of the tunnel in Afghanistan, where lying and self-delusion have continued for 20 years.
An initial mission intended to remove the Taliban and close the al-Qaida training camps succeeded, though Osama bin Laden slipped away for another 10 years. But hubris kept the U.S. from stopping there.
The mission expanded: create a modern democracy, a modern society and, above all, a modern military in a country with little history of any of those things.
A new generation of U.S. officials in uniform and policymaker suits and dresses fooled the American people and themselves by lying about how well the effort was going.
The failure was actually there to see, this time, well documented by the systematic auditing and reporting of the special inspector general for Afghanistan reconstruction, John Sopko. But government officials and the media blew by those truths, giving voice instead to the lies out of more visible officials' mouths. The human price tag of hubris grew – 6,300 U.S. military and civilian deaths, and an understated estimate of 100,000 Afghan deaths.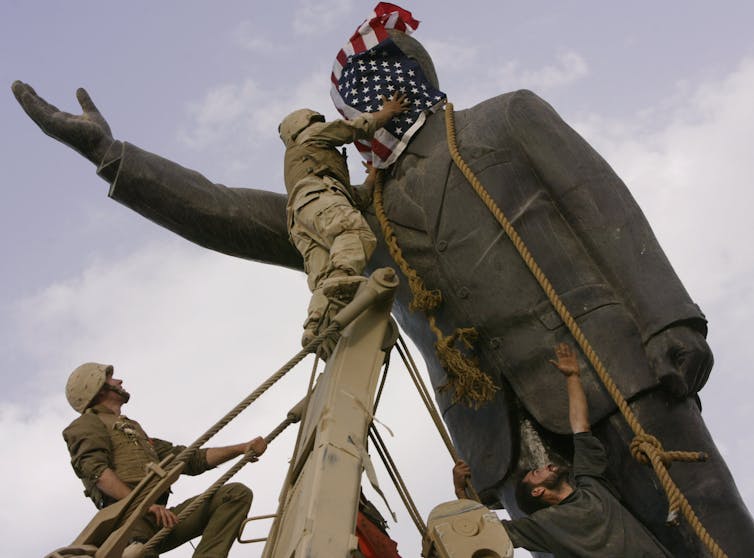 U.S. soldiers cover the face of a statue of Saddam Hussein before pulling the statue down in Baghdad, Iraq, in April 2003. AP Photo/Jerome Delay