From Missouri to Massachusetts to Michigan
Even though it's commonly known as the Pfizer vaccine, it was actually developed under a partnership with BioNTech, which is based in Germany.
It is one of two vaccines that use new mRNA technology, which provides genetic instructions that encode a viral protein. Once the vaccinated person's cells start making the coronavirus protein, it prompts their immune system to design powerful antibodies that can neutralize the virus if they ever encounter it.
A vaccine dose's 60-day journey to distribution starts with raw ingredients in a Pfizer factory in Chesterfield, Missouri, a suburb of St. Louis. This factory produces the key raw material called plasmids, which are basically strands of DNA that contain the genetic instructions for building coronavirus proteins.
Bottles of the DNA material are frozen, bagged, sealed and packed into a container and shipped to Andover, Massachusetts. There, the DNA is processed into mRNA, which is the active ingredient in the vaccine – also referred to as the "drug substance."
The mRNA is packaged in plastic bags – each containing enough material to produce 10 million doses – frozen and shipped to Kalamazoo, Michigan, where the vaccine reaches the last stage of the process: formulation and filling.
First, the drug substance is combined with lipid nanoparticles – basically fat – to protect the mRNA and help it enter the human cells. Next, the combination is squirted into glass vials, six doses per vial, packaged and frozen for distribution.
Here I have presented a simplified three-step process. Making a vaccine, however, is more much complex, requiring more than 200 different materials supplied by factories spread across the world.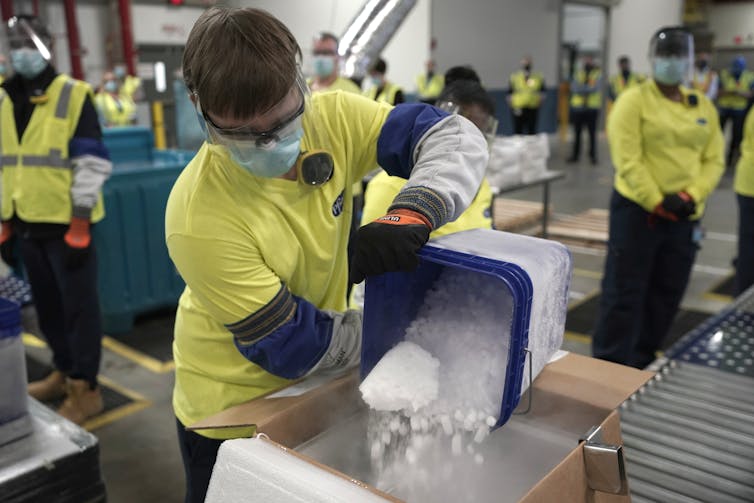 Pfizer's custom boxes use dry ice to keep vaccine vials at ultra-cold temperatures. AP Photo/Morry Gash, Pool