Diverse projects and risks
Our study examines 594 development projects financed by the China Development Bank and the Export-Import Bank of China. We created a database to track the characteristics and locations of projects that these two "policy banks" supported between 2008 and 2019. During this period, the banks committed more than US$462 billion in development finance to 93 countries – roughly as much as the World Bank, the traditional global leader in development finance, committed in that time.
Nearly half of all projects financed by these two banks are located within potential critical habitats. These are areas that might be essential for conservation and require special protection considerations, according to the International Finance Corporation, a unit of the World Bank that promotes private investment in developing countries.
One in three of the projects fall within existing protected areas, and nearly one in four overlaps with lands owned or managed by Indigenous peoples. In total, we calculate that China's development finance portfolio could impact up to 24% of the world's threatened amphibians, birds, mammals and reptiles.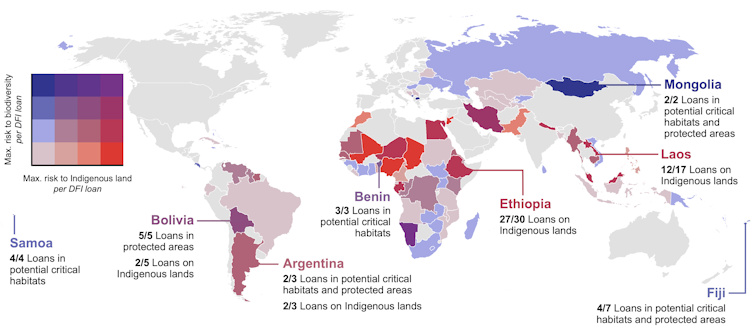 Selected risks to biodiversity and Indigenous lands within countries receiving Chinese overseas development loans. Adapted from Yang, et al., 2021
The greatest risks lie in South America, Central Africa and Southeast Asia. All of the projects that China's policy banks are financing in Benin, Bolivia and Mongolia overlap with existing protected areas or potential critical habitats. More than 65% of Chinese development projects in Ethiopia, Laos and Argentina are located within Indigenous lands.
On average, risks to Indigenous lands are greatest from extraction and transportation projects, such as mines, pipelines and roads. The greatest threats to nature are energy projects, including dams and coal-fired power plants. For example, a cascade of seven hydropower dams along the the Nam Ou River in Laos has displaced Indigenous communities that depended on local ecosystems for their livelihoods.