Acting with a sense of urgency
India is already experiencing the negative effects of climate change. Yet it is the world's third-largest emitter of carbon dioxide, and its electricity and heating sector produces more than 1.1 billion tonnes of carbon emissions annually. With coal still central to the country's energy sector — and more coal-fired plants planned — emissions are set to rise with economic growth. Additionally, 22 out of the world's 30 most polluted cities are in India.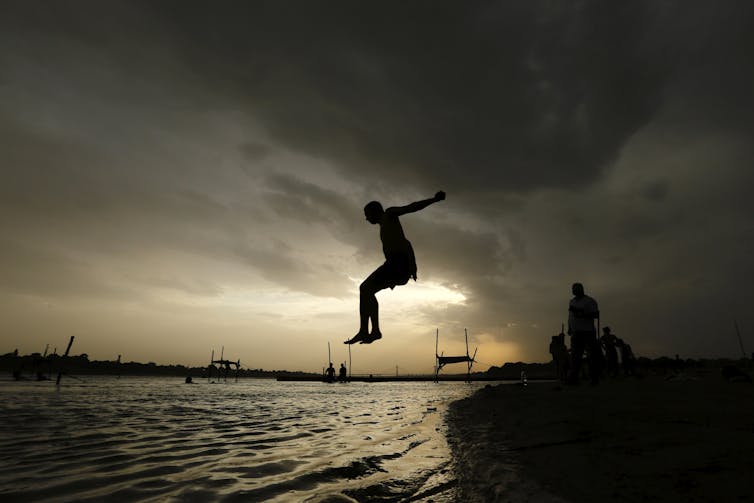 A boy jumps into the Ganges River during a hot summer day in Prayagraj, India, in May 2020, shortly after an intense heat wave pushed temperatures past 45 C. (AP Photo/Rajesh Kumar Singh)
Except for a few NGOs, environmental advocacy groups in India have failed to campaign for the shutdown of coal-fired power plants and other industrial projects. Instead, many NGOs have introduced trivial campaigns such as "Monsoon Wooding" and "Pedh Lagao" (Plant Trees).
These initiatives act as weak solutions to India's aggrieved environmental condition, at a time when environmental activists need to probe and have clarity on the most effective responses to climate change. These campaigns become problematic when they fail to ground themselves in science and begin to assert that they can resolve imminent threats, such as air pollution and climate change.
When poorly planned, tree planting can have negative consequences on ecosystems and climate change. For instance, planting trees in areas that have never been forested before, such as on grasslands, savannahs and dry lands, reduces carbon sequestration and increases air temperatures.
With the climate crisis at India's front door, climate activists are being sloppy if they don't hold industries accountable for their carbon output, and instead look to citizens to reduce their relatively minuscule carbon footprint.