Global political threats
The two laureates' cases highlight an emergency for civil society: Muratov, editor of what the Nobel Prize Committee described as "the most independent paper in Russia today," has seen six of his colleagues slain for their work criticizing Russian leader Vladimir Putin.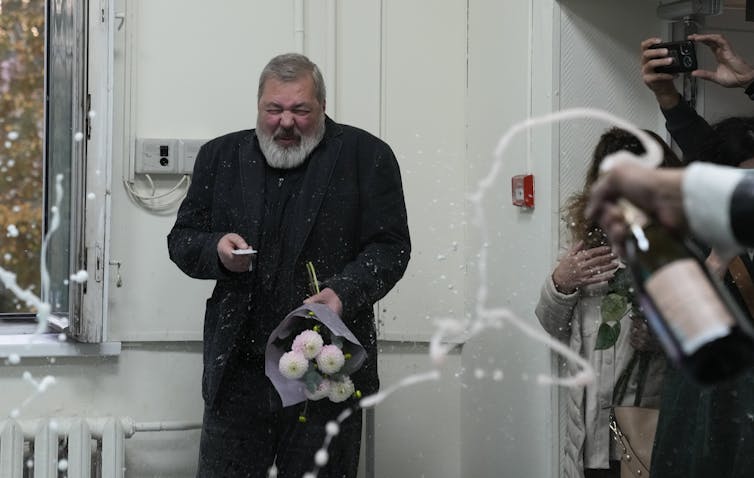 Dmitry Muratov celebrates his Nobel Prize win. AP Photo/Alexander Zemlianichenko
Ressa, a former CNN reporter, is under a de facto travel ban because the government of Rodrigo Duterte, in an obvious attempt to bankrupt Rappler, has filed so many legal cases against the website that Ressa must go from judge to judge to ask permission any time she wants to leave the country.
Inevitably, Ressa told me recently, one of them says "no." Maybe that will change now that she has a date in Stockholm. But Ressa probably knows better than to hold her breath.
Last year, when I – a long-time journalist turned professor of journalism – helped organize a group of fellow Princeton alumni to sign a letter of support for Ressa, more than 400 responded. They included members of Congress and state legislatures and former diplomats who served presidents of both parties. One of them was former Secretary of State George P. Shultz, who died several months later, making a show of solidarity with Maria Ressa one of his last public acts. This show of support is a sign of what's at stake.
Three decades after the downfall of totalitarian regimes in Eastern Europe, forces of darkness and intolerance are on the march. Journalists are the canaries down the noxious mine shaft. Attacks on them are becoming more brazen: whether it is the grisly dismemberment of Saudi dissident and writer Jamal Khashoggi, the grounding of a commercial airplane to snatch a Belarusian journalist or the infamous graffiti "Murder the Media" scrawled onto a door of the U.S. Capitol during the Jan. 6 insurrection.
This irrational hatred of purveyors of facts knows no ideology. Former U.S. President Donald Trump's disdain for the press is at least equaled by that of leftist Nicaraguan leader Daniel Ortega, whose response to his critics in the media has been to, well, lock 'em up.