January - Citizenship Amendment Act
After the passage of CAA (Citizenship Amendment Act) in India, the domestic political dynamics are changing rapidly due to the ultra-conservative opinions of RSS-inspired leaders about minorities, especially Muslims. Muslims living in India are worried about their future given the prevailing intolerant environment in India.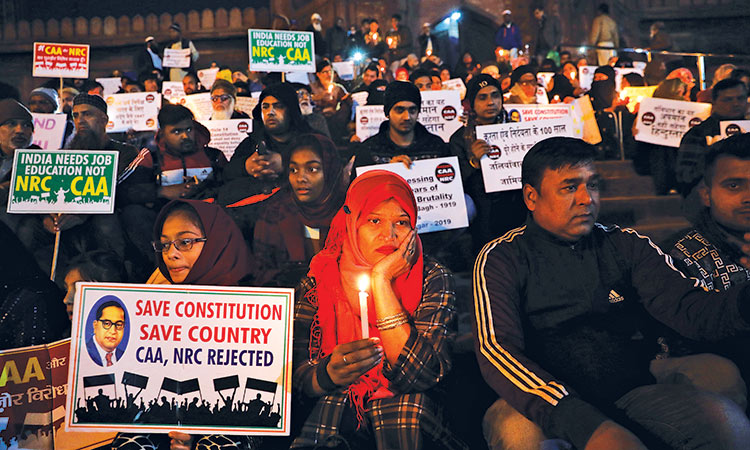 Previous
Next
The BJP government passed the controversial new Citizenship Amendment Act (CAA) in December 2019, and the new year saw huge protests break out across the whole country: the longest period of national unrest since the 1970s. The CAA gives amnesty to migrants from neighbouring countries, making it possible for them to obtain citizenship – with the exception of Muslims. Many felt that this law contravened India's constitution as a secular nation, discriminating on the basis of religion.
Protests against the CAA lasted for over a month, with hundreds of thousands taking to the streets in major cities everywhere, from Kochi to Kolkata. Over fifty people are known to have died in the violence that broke out in opposition to the peaceful protests. Perhaps most shockingly of all, police stood by while a mob attacked Jawaharlal University in Delhi, violently assaulting students and teachers, smashing windows, and shouting Hindu nationalist slogans. The mob ran riot for several hours; no one was arrested.
Despite this episode, the CAA protests felt like a sign of hope. Millions of people came together to stand up for the idea of a secular India and reject the BJP and RSS's Hindutva ideology. According to some estimates, on 8th January around 250 million people came out onto the streets: that's more than the entire population of Russia, and makes it one of the biggest protest movements in India's history.