Claims of market manipulation
By some estimates, Wall Street short sellers have lost $13 billion on GameStop so far this year. Eduardo MunozAlvarez/VIEWpress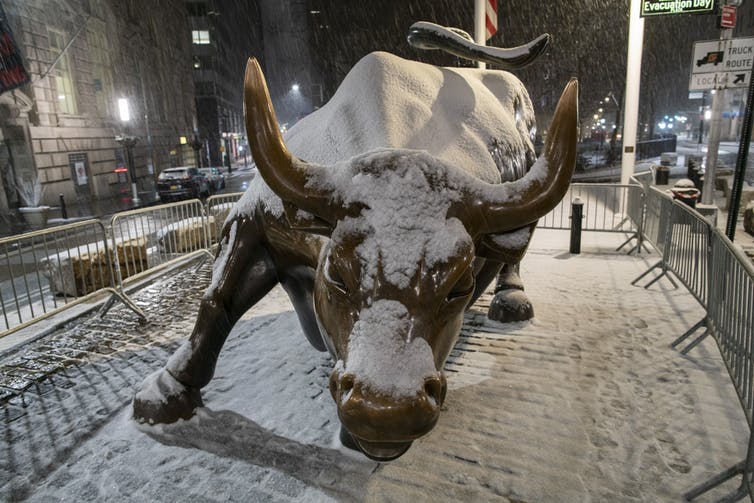 Previous
Next
GameStop's stock price skyrocketed in mid-January after members of WallStreetBets discovered that hedge funds were short-selling the stock, or betting that it would make them money when its share price declined.
Anonymous members of WallStreetBets then encouraged investors to purchase the GameStop stock, claiming it would go "to the moon" and severely harm Wall Street. By some estimates, short sellers have lost US$13 billion so far this year.
The influx of new investors into a struggling company likely created a stock bubble that would eventually burst, costing the investors who purchased GameStop stock right before its decline.
Whether WallStreetBets members can be held responsible for market manipulation depends on whether the First Amendment protects their right to anonymous speech.
Market manipulation involves deceptive behavior that artificially changes the price of a stock beyond its real value, so free speech is generally not a viable defense against these securities laws. Deceiving consumers to artificially inflate the price of a stock – often called a "pump and dump" scheme – is therefore not protected by the First Amendment.
However, I'm confident that speech that is intended to express one's true opinions about a stock – or the benefits of holding Wall Street hedge funds accountable for their behavior – is fully protected speech.
In many WallStreetBets postings, it's difficult to tell whether an anonymous poster intended to deceive investors. The poster might have been sharing investing advice, commiserating with others or simply being silly and inflammatory. All of these examples are protected speech.
One Redditor claimed these investors were going to be part of "deep f—ing history," which is a claim about forming part of a social movement.
Another said, "Take the cash you can afford to lose and buy, buy, buy." This statement doesn't indicate an optimistic view of how the stock will fare. Therefore, it likely does not amount to market manipulation and is protected speech.
In these two cases, a court is unlikely to unmask the Reddit posters and investigate whether they intended to deceive investors.