Secret military bases and Danish freezers
Workers build the snow tunnels at the Camp Century research base in 1960. U.S. Army Corps of Engineers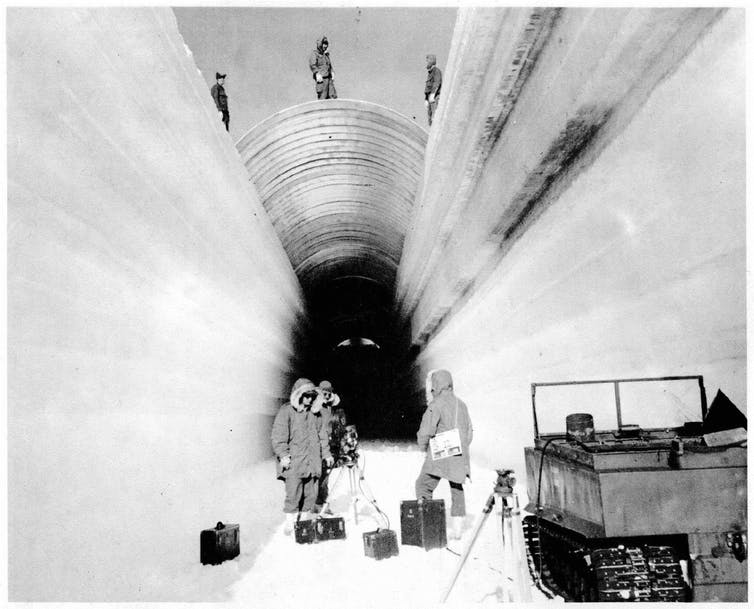 Geomorphologist Paul Bierman (right) and geochemist Joerg Schaefer of Columbia University examine the jars holding Camp Century sediment for the first time. They were in a Danish freezer set at -17 F. Paul Bierman, CC BY-ND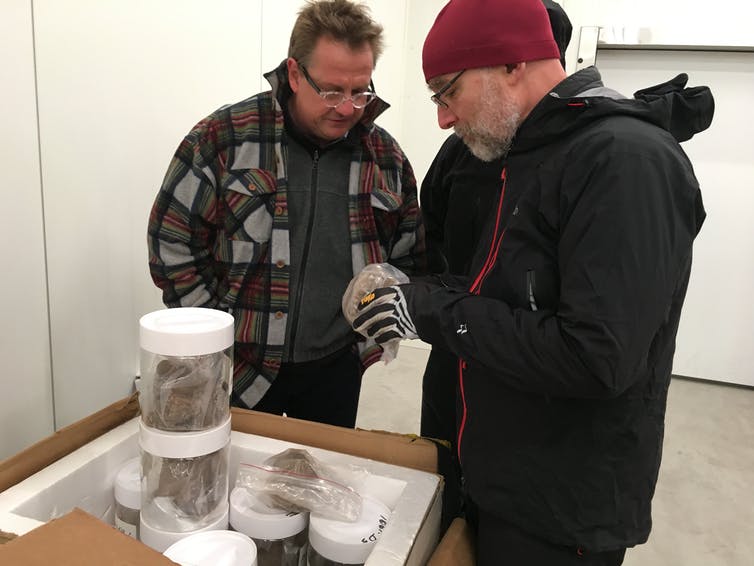 Previous
Next
The story of the ice core begins during the Cold War with a military mission dubbed Project Iceworm. Starting around 1959, the U.S. Army hauled hundreds of soldiers, heavy equipment and even a nuclear reactor across the ice sheet in northwest Greenland and dug a base of tunnels inside the ice. They called it Camp Century.
It was part of a secret plan to hide nuclear weapons from the Soviets. The public knew it as an Arctic research laboratory. Walter Cronkite even paid a visit and filed a report.
Camp Century didn't last long. The snow and ice began slowly crushing the buildings inside the tunnels below, forcing the military to abandon it in 1966. During its short life, however, scientists were able to extract the ice core and begin analyzing Greenland's climate history. As ice builds up year by year, it captures layers of volcanic ash and changes in precipitation over time, and it traps air bubbles that reveal the past composition of the atmosphere.
One of the original scientists, glaciologist Chester Langway, kept the core and soil samples frozen at the University at Buffalo for years, then he shipped them to a Danish archive in the 1990s, where the soil was soon forgotten.
A few years ago, our Danish colleagues found the soil samples in a box of glass cookie jars with faded labels: "Camp Century Sub-Ice."