When direct translation doesn't work
Around the world, people use different words for similar – but not always identical – weather phenomena. Created with wordart.com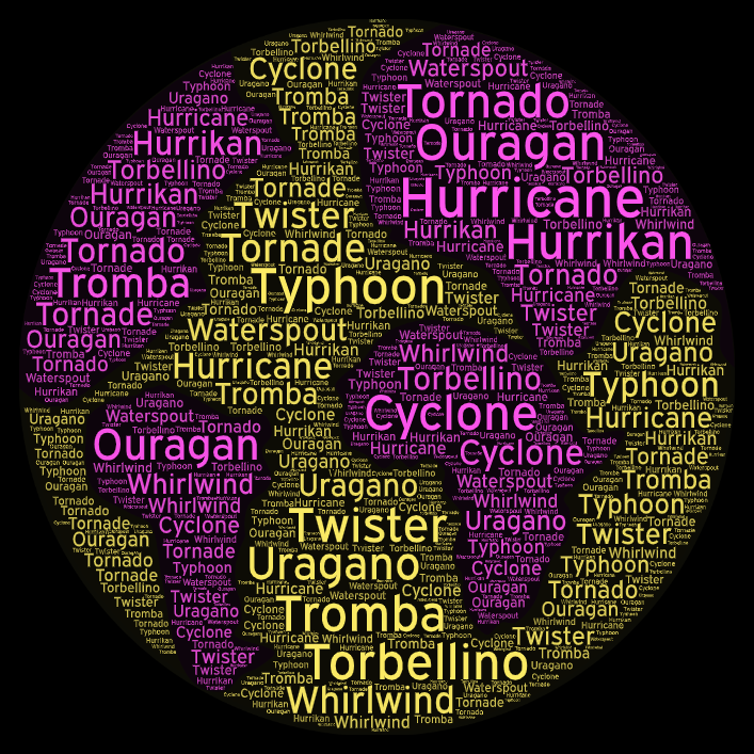 Previous
Next
What forecasters call a "hurricane" in the U.S. might b
e called a "cyclone" or "typhoon" in other countries. But they are all the same natural phenomenon.
The word "typhoon" has an Arabic origin, "tawaphan," but the word in Arabic means "flooding." The word also can be found in Persian as "tophan," where it means a "rainstorm." The word exists in Hindi as well, "toophan," and simply means a "storm."
The two words "tornado" and "hurricane" are translated into the
same word in Arabic, "iiesar." But this word describes only a circular movement of wind. The term used in Arabic to describe a hurricane is "iiesar bahri," which is translated back to English as "sea cyclone."
In the U.S., the words "tornado" and "twister" are used interchangeably in English, but in Spanish, they are not. In Spanish, "tornado" is translated to "tornado," while "twister" is translated to "torbellino" or "tromba," which is translated back to English as "whirlwind." Similarly, "tornado" is translated to "kardbad" in Persian, which also means a "whirlwind." In both cases, the translations fail to reflect the severity of the event; it makes the hazard so
und less dangerous.
Misunderstanding can go in the other direction as well, leading to unnecessary panic. The word "hurricane" assumes a certain cultural context around the world. This is mainly due to media coverage of actions taken by the U.S. government during hurricanes. Because of this, migrants from India might assume that hurricanes are more destructive than cyclones if they compare the U.S. government response to hurricanes to the Indian government response to cyclones.
The knock-on effect is that human behavior in response to the same natural ph
enomena is altered. This can spread panic among migrants, which can be as hazardous as not being prepared during emergencies.
The problems do not end with "hurricane" and "tornado." We found similar issues arising with terms used to describe seismic events, monsoonal dust and sand storms. And we are only scratching the surface. Our data are limited to 10 languages out of more than 7,100 spoken languages around the world.
Around the world, people use different words for similar – but not always identical – weather phenomena. Created with wordart.com