How the poor suffered during last year's lockdown
Migrant workers wait for trains in Mumbai after the state of Maharashtra announced new restrictions this month, including weekend lockdowns. DIVYAKANT SOLANKI/EPA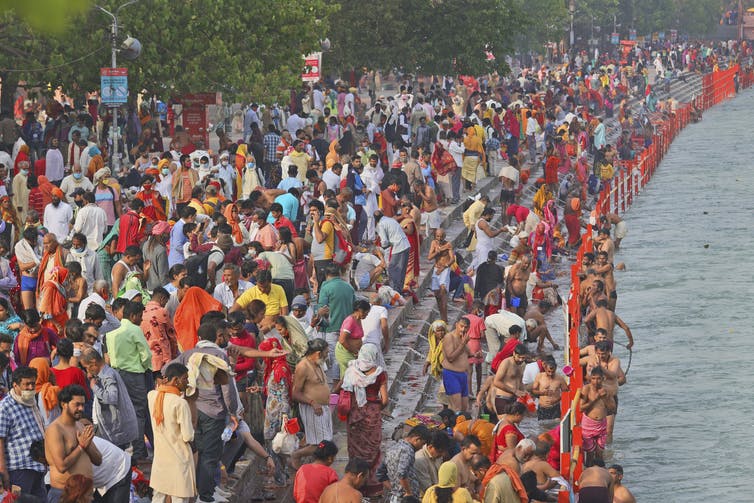 Previous
Next
When COVID-19 first appeared in India last year, the Modi government was quick to bring the country together.
In a speech to the nation last March, he announced a 21-day nationwide lockdown of 1.3 billion people with only four hours' notice. All means of transportation were suspended. The rich and affluent started hoarding food and medicines, while the poor worried about their livelihoods.
A mass migration ensued as hundreds of millions of migrant workers headed from the major cities back to their home villages on foot. This was the most visible face of the humanitarian crisis. Others, however, suffered out of the public eye, such as the street vendors, waste pickers, domestic maids and shopkeepers in slums, who were all forced to stop working.
Migrant laborers wait for buses to transport them to their hometowns following last year's lockdown. AP
As part of a study last year, I helped conduct a series of six rounds of telephone surveys in 20 diverse slums in the city of Patna, the capital of the northeastern Bihar state from July to November.
Nearly all slum residents we spoke with — except the rare few with protected formal sector jobs — were cut off suddenly from their sources of income after the lockdown was announced. And more than 80% of slum households in Patna lost their entire primary source of income.
Economic recovery since the lockdown has also been slow. By mid-November, one-third of respondents had still not fully recovered their pre-pandemic incomes. Many had been hired back at their old jobs on a part-time basis or at a fraction of their former pay. Many jobs simply disappeared.
The poor survived by cutting back on their food, borrowing money and helping each other.
Given these struggles, there is now a sense of anxiety in these slum communities and a mistrust of the government, especially Modi. Says Ajay, 35, a street vendor who lives in the Kankarbagh slum,
The government finds it is easy to lock us down but not to provide financial and livelihood support. PM is busy campaigning for an election where thousands of people come without masks and are violating social distancing norms.